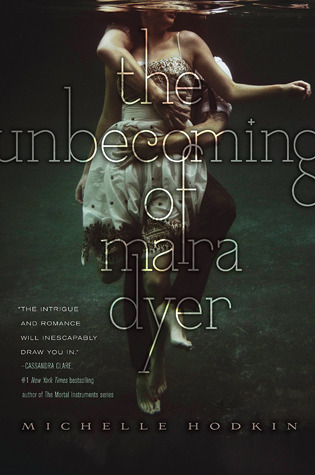 Title: The Unbecoming of Mara Dyer
Author: Michelle Hodkin
Publisher: Simon and Schuster Books for Young Readers
Genre: YA, paranormal??
Blurb:
Mara Dyer believes life can't get any stranger than waking up in a hospital with no memory of how she got there.
It can.
She believes there must be more to the accident she can't remember that killed her friends and left her strangely unharmed.
There is.
She doesn't believe that after everything she's been through, she can fall in love.
She's wrong.
REVIEW:
I was unbelievably disappointed in this book. It had so much potential, such an interesting premise, and then it just went full blown YA cliche. You've got the girl without personality moving to a new town and the bad boy/playboy takes an immediate interest. She becomes the only person he's ever felt anything for, and she doesn't like him but she likes him. Queue the eye roll!
I really tried to give this book a chance because of the plot. The time gaps that Mara had were intriguing and I kept waiting for that moment that things might begin to form into an actual event or conclusion (even just a hint). But it ended up with a string of weird events that always brought Mara back to Noah (the bad boy love interest).
I got about 25% through before I just gave it up. This book wouldn't come out with anything other than a controlling and unlikable love interest that of course is irresistible and mysterious and somehow knows something "more" about Mara. If you liked
Twilight
or
Hush, Hush
then you would probably enjoy this book, but it really wasn't for me.